Tiered disposal of waste lithium batteries
---
Disassembling of scrapped automobile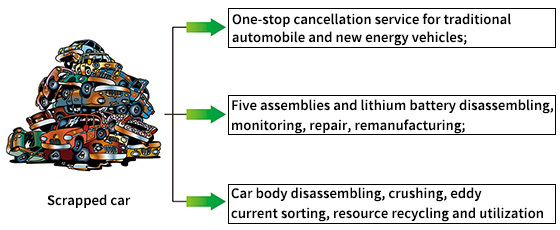 The company has built a recycling and disassembling production line of 30,000 scrapped vehicles per year to realize the recycling and harmlessness of scrapped vehicles.The recycling and utilization of scrapped vehicles has become an important measure to develop circular economy and build a resource-saving and environment-friendly society.In 2009,the National Development and Reform Commission,the Ministry of Finance,the Ministry of Commerce,the Ministry of Industry and Information Technology,and the Ministry of Environmental Protection issued the Implementation Plan for Promoting the Expansion of Domestic Demand and Encouraging the Exchange of Old Automobiles and Household Appliances for New Ones,specifying that the state encourages and supports the development of the old automobile recycling,disassembling and renewable resources utilization industries.
In recent years,with the rapid growth of car ownership in China,more and more cars are subject to scrap and recycling.More than 90%of iron&steel,non-ferrous metal and material parts in cars can be recycled.
Disassembling process of scrapped vehicles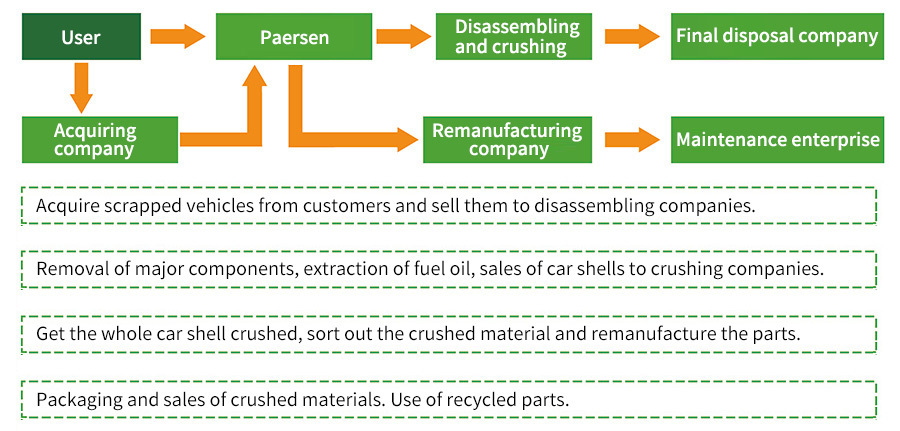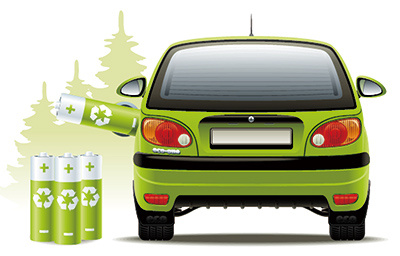 In 2016,there were 635 Chinese enterprises qualified for disassembling.However,there are only 40 enterprises with an annual disassembling ability of more than 10,000 vehicles,most of which are small in scale,low in investment and relatively backward in technology and equipment.In addition,investment in environmental protection is limited,measures for pollution prevention and control are not properly taken,and there is great worry about hazardous waste disposal.According to the Ministry of Commerce,1.741 million motor vehicles were recovered nationwide in 2017.From January to May,2018,7.25 million motor vehicles were recovered nationwide,with a year-on-year growth of 19.3%.In 2019,the Traffic Management Bureau of the Ministry of Public Security released the latest statistical data on motor vehicles and drivers in the first half of the year.As of June 2019,there are 340 million motor vehicles in China.More than 90%of the metal parts in the scrapped vehicles are recyclable,and the recycling rate of plastics and glass can reach more than 50%.According to the actual calculation of our company,after refined disassembling,about 740KG of iron,110KG of non-ferrous metals and 70KG of plastics can be obtained from a car weighing 1 ton.Scrapped vehicles contain abundant secondary resources.In addition,the waste oil,refrigerant,lead-acid battery and other hazardous wastes in the scrapped vehicles imply the crisis of secondary pollution.Therefore,on the premise of ensuring environmental protection and safety,it is an important link to realize the circular economy of the automobile industry to do a good job in the recycling and utilization of scrapped motor vehicles.As of June 2019,there are 3.44 million new energy vehicles in China,accounting for 1.37%of total vehicles.Compared with that at the end of last year,830,000 vehicles have been increased,an increase by 31.87%;Compared with that in the same period last year,1,450,000 vehicles have been increased,an increase by 72.85%.
---
Enquiry Hotline
Address: East Lianghou Avenue, Guapo Town, Huazhou District, Weinan City, Shaanxi Province
WeChat official account
---